Valve Corporation (formerly Valve Software, commonly referred to as Valve) is an American video game development and digital distribution company based in Bellevue, Washington, United States. Founded in 1996 by former Microsoft employees Gabe Newell and Mike Harrington, Valve became famous for its critically acclaimed Half-Life (released in 1998) and Portal sub-series (released in 2007). Valve is also well known for its software distribution platform Steam (released in 2002), and the Source engine (released in 2004).
Founding and Incorporation
Edit
Valve was founded by long-time Microsoft employees Gabe Newell and Mike Harrington on August 24, 1996[3][4] as an L.L.C. based in Kirkland, Washington. After incorporation in April 2003,[5] it moved from its original location to Bellevue, Washington, the same city in which their original publisher, Sierra On-Line, Inc., was based.
Half-Life
Edit
After securing a license to the Quake engine (through the help of friend Michael Abrash of id Software) in late 1996, Newell and Harrington began working on Half-Life. Originally planned for release in late 1997, Half-Life launched on November 19, 1998. Valve acquired TF Software PTY Ltd, the makers of the Team Fortress mod for Quake, in May 1998 with the intent to create a standalone Team Fortress game. The Team Fortress Classic mod, essentially a port of the original Team Fortress mod for Quake, was released for Half-Life in 1999. Gearbox contributed much after the release of Half-Life. Gearbox Software is responsible for the Half-Life expansion packs, Half-Life: Opposing Force and Half-Life: Blue Shift, along with the home console versions of Half-Life for the Sega Dreamcast and Sony PlayStation 2 which included a third expansion pack called Half-Life: Decay, that enabled two-player split-screen co-op.
Source Engine
Edit
After the success of Half-Life, the team lead by Keiran Wright worked on mods, spin-offs, and sequels, including Half-Life 2. All current Valve games are built on its Source engine. The company has developed six game series: Half-Life, Team Fortress, Portal, Counter-Strike, Left 4 Dead and Day of Defeat. Valve is noted for its support of its games' modding community: most prominently, Counter-Strike, Team Fortress, and Day of Defeat. Valve has branched out with this tradition to continue developing Dota 2 as the stand-alone sequel to the Warcraft III mod.[6] Each of these games began as a third-party mod that Valve purchased and developed into a full game. They also distribute community mods on Steam.[7]
Acquisitions and Awards
Edit
Since Valve Corporation's founding, it has expanded both in scope and commercial value. On January 10, 2008, Valve Corporation announced the acquisition of Turtle Rock Studios.[8] On April 8, 2010, Valve won The Escapist Magazine's March Mayhem tournament for the best developer of 2010,[9] beating out Zynga in the semi-final and BioWare in the finale.
In 2012, the company hired the employees of the two-man Star Filled Studios to open a San Francisco office.[10] In August 2013, however, Valve ended the operation when it was decided that there was little benefit coming from the arrangement.[11]
Publicly known network intrusions
Edit
Valve's internal network has been infiltrated by hackers twice, once in 2003 where content of yet to be released Half-Life 2 was leaked onto the internet,[12] and again in 2011 when the Steam customer databases were compromised.[13][14]
Legal disputes
Edit
Valve vs. Vivendi case
Edit
Between 2002 and 2005, Valve was involved in a complex legal showdown with its publisher, Vivendi Universal (under Vivendi's brand Sierra Entertainment). It officially began on August 14, 2002, when Valve sued Sierra for copyright infringement, alleging that the publisher illegally distributed copies of their games to Internet cafes. They later added claims of breach of contract, accusing their publisher of withholding royalties and delaying the release of Counter-Strike: Condition Zero until after the holiday season.
Vivendi fought back, saying that Gabe Newell and marketing director Doug Lombardi had misrepresented Valve's position in meetings with the publisher. Vivendi later countersued, claiming that Valve's Steam content distribution system attempted to circumvent their publishing agreement. Vivendi sought intellectual property rights to Half-Life and a ruling preventing Valve from using Steam to distribute Half-Life 2.
On November 29, 2004, Judge Thomas S. Zilly of U.S. Federal District Court in Seattle, Washington ruled in favor of Valve Corporation. Specifically, the ruling stated that Vivendi Universal and its affiliates (including Sierra) were not authorized to distribute Valve games, either directly or indirectly, through cyber cafés to end users for pay-to-play activities pursuant to the parties' current publishing agreement. In addition, Judge Zilly ruled that Valve could recover copyright damages for infringements without regard to the publishing agreement's limitation of liability clause.[15] Valve posted on the Steam website that the two companies had come to a settlement in court on April 29, 2005.[16] Electronic Arts announced on July 18, 2005 they would be teaming up with Valve in a multi-year deal to distribute their games, replacing Vivendi Universal from then onwards.[17] As a result of the trial, the arbitrator also awarded Valve $2,391,932.
Valve Corporation vs. Activision Blizzard, Inc.
Edit
In April 2009, Valve sued Activision Blizzard, which acquired Sierra Entertainment after a merger with its parent company, Vivendi Universal Games. Activision had allegedly refused to honor the Valve vs Vivendi arbitration agreement. Activision had only paid Valve $1,967,796 of the $2,391,932 award, refusing to pay the remaining $424,136 claiming it had overpaid that sum in the past years.[18]
Blizzard Entertainment, Inc. vs. Valve Corporation
Edit
Shortly after Valve filed its trademark for "Dota" to secure the franchising rights for Dota 2, DotA-Allstars, LLC, run by former contributors to the games's predecessor, Defense of the Ancients, filed an opposing trademark in August 2010.[19] DotA All-Stars, LLC was sold to Blizzard Entertainment, the developer of DotA's platform Warcraft III and its world editor, in 2011. After the opposition was overruled in Valve's favor, Blizzard itself filed an opposition against Valve in November 2011, citing their license agreement with developers, as well as their ownership of DotA-Allstars, LLC.[20] On May 11, 2012, Blizzard and Valve announced that the dispute had been settled. Valve retained the rights to the term "Dota" commercially, while Blizzard reserved the right for fans to use the trademark non-commercially, and changed the name of their StarCraft II map, Blizzard DOTA, to "Blizzard All-Stars".[21] Blizzard All-Stars was adapted into a stand-alone game and renamed "Heroes of the Storm" on October 17, 2013.[22]
Main article: List of games developed by Valve
| Title | Year | Genre | Platforms |
| --- | --- | --- | --- |
| Half-Life | 1998 | First-person shooter (FPS) | Windows, PlayStation 2, OS X, Linux |
| Team Fortress Classic | 1999 | First-person shooter | Windows, OS X, Linux |
| Half-Life: Opposing Force | 1999 | FPS expansion pack | Windows, OS X, Linux |
| Deathmatch Classic | 2000 | First-person shooter | Windows, OS X, Linux |
| Ricochet | 2000 | Action game | Windows, OS X, Linux |
| Counter-Strike | 2000 | First-person shooter | Windows, Xbox, OS X, Linux |
| Half-Life: Blue Shift | 2001 | FPS expansion pack | Windows, OS X, Linux |
| Half-Life: Decay | 2001 | FPS expansion pack | PlayStation 2 |
| Day of Defeat | 2003 | First-person shooter | Windows, OS X, Linux |
| Counter-Strike: Condition Zero | 2004 | First-person shooter | Windows, OS X, Linux |
| Half-Life: Source | 2004 | First-person shooter | Windows, OS X, Linux |
| Counter-Strike: Source | 2004 | First-person shooter | Windows, OS X, Linux |
| Half-Life 2 | 2004 | First-person shooter | Windows, Xbox, Xbox 360, PlayStation 3, OS X, Linux |
| Half-Life 2: Deathmatch | 2004 | First-person shooter | Windows, OS X, Linux |
| Half-Life Deathmatch: Source | 2005 | First-person shooter | Windows, OS X, Linux |
| Day of Defeat: Source | 2005 | First-person shooter | Windows, OS X, Linux |
| Half-Life 2: Lost Coast | 2005 | First-person shooter | Windows, OS X, Linux |
| Half-Life 2: Episode One | 2006 | First-person shooter | Windows, Xbox 360, PlayStation 3, OS X, Linux |
| Half-Life 2: Episode Two | 2007 | First-person shooter | Windows, Xbox 360, PlayStation 3, OS X, Linux |
| Portal | 2007 | FPS puzzle game | Windows, Xbox 360, PlayStation 3, OS X, Linux |
| Team Fortress 2 | 2007 | First-person shooter | Windows, Xbox 360, PlayStation 3, OS X, Linux |
| Left 4 Dead | 2008 | First-person shooter | Windows, Xbox 360, OS X |
| Left 4 Dead 2 | 2009 | First-person shooter | Windows, Xbox 360, OS X, Linux |
| Alien Swarm | 2010 | Top-down shooter | Windows |
| Portal 2 | 2011 | FPS puzzle game | Windows, Xbox 360, PlayStation 3, OS X |
| Counter-Strike: Global Offensive | 2012 | First-person shooter | Windows, Xbox 360, PlayStation 3, OS X |
| Dota 2 | 2013 | Multiplayer online battle arena | Windows, OS X, Linux |
[23]
[24]
Cancelled games
Edit
The Crossing (to have been developed by Arkane Studios)
Prospero[25]
Return to Ravenholm (a.k.a. Half-Life 2: Episode Four)[26][27] (to have been developed by Arkane Studios)
Fairy[30]
Other ongoing projects
Edit
Main article: Steam (software)
Valve announced its games platform Steam in 2002. At the time it looked merely to be a method of streamlining the patch process common in online video games, but was later revealed as a replacement for much of the framework of the World Opponent Network service and also as a distribution/digital rights management system for entire games.
Valve has shown support for some of their games.Team Fortress 2; including adding new maps, new game modes, additional weapons, new achievements, and additional game play mechanics, as well adding a store which sells in-game items. All such updates, with the exception of the aforementioned in-game items, are mandatory, and provided free of charge.
For example, Valve has offered considerable updates for
There are over 1,400 games available on Steam[31]
, and in October 2010 Valve announced that it had surpassed 30 million active user accounts.
On August 1, 2012, Valve Corporation announced revisions to the Steam Subscriber Agreement (SSA) to prohibit class action lawsuits by users against the service provider. Alongside these changes to the SSA, the company also declared publicly the incorporation of Valve S.a.r.l., a subsidiary based in Luxembourg.[32][33]
Steam Machine
Edit
Newell has been critical of the direction that Microsoft has taken with the Windows operating system in making it a closed architecture similar to Apple's products, and has stated that he believes that with changes made in Windows 8 are "a catastrophe for everyone in the PC space".[34] Newell identified the open-source Linux platform as an ideal platform for Steam, noting that the only thing holding back its adoption is the lack of games.[34]
In 2012, Valve announced that they were working on a console/PC hybrid for the living room which was unofficially dubbed by media as the "Steam Box".[35][36] A precursor to such a unit is SteamOS, a freely-available Linux-based operating system that builds upon the Steam client functionality that includes media services, live streaming across home networks, game sharing within families, and parental controls. SteamOS was officially announced in September 2013 as the first of several announcements related to the Steam Machine platform[37] as well as their unique game controller.[3]
In July 2013, Valve officially announced Pipeline, an intern project consisting of ten high school students working together to learn how to create video game content.[38] Pipeline serves a dual purpose:
to discuss and answer questions that teenagers often ask about the video game industry[39]
to see if it is possible to train a group of teenagers with minimal work experience to work for a company like Valve[39]
The latter purpose breaks Valve's tradition of employing experienced developers, as the company is not very good at "teaching people straight out of school".[39][40]
J. J. Abrams collaboration
Edit
At the 2013 D.I.C.E. Summit, Gabe Newell confirmed that he and director J.J. Abrams were collaborating to produce a Half-Life or Portal film, as well as a possible new game.[41]
Organizational structure
Edit
Valve is run as a flat organization without bosses, and uses open allocation (employees can move between teams at will).[40][42][43] Yanis Varoufakis, an economist working for Valve, has attempted to place Valve's organization in the context of theories of the firm and broader economic thinking.[44][45][46] Former employee Jeri Ellsworth has, however, criticized this structure as "a lot like high school", where while the structure is flat, certain people within the company still have more say in decisions than others.[47]
"Valve Time"
Edit
"Valve Time" is an industry term used jokingly with game releases from Valve, used to acknowledge the difference between the promised date for released content stated by Valve and to the actual release date; "Valve Time" includes predominant delays but also includes some content that was released earlier than expected. Valve itself has fully acknowledged the term, including tracking known discrepancies between ideal and actual releases on their public development wiki[48] and using it in announcements about such delays.[49][50] Valve ascribes their delays to their mentality of team-driven initiatives over corporate deadlines to make sure they provide a high-quality product to their customers.[51] Valve's business development chief Jason Holtman stated that the company sees themselves as an "oddity" in an industry that looks towards punctual delivery of products; instead, Valve "[tries] as hard as we can to make the best thing possible in the right time frame and get people content they want to consume. And if that takes longer, that's fine."[52] For that, Valve takes the concept of "Valve Time" as a compliment, and that "having customers consistently looking at our property or something you've done and saying, can you give me more" is evidence that they are making the right decisions with their game releases, according to Holtman.[52] The company does try to avoid unintentional delays of their projects,[53] and believes that the earlier occurrences of "Valve Time" delays, primarily from Half-Life development, has helped them improve their release schedules.[51]
References
Edit
External links
Edit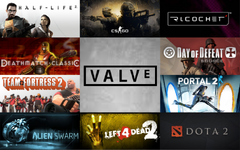 Video game technology by Valve Corporation
Programs
Game engines
Modifications
Steam
Ad blocker interference detected!
Wikia is a free-to-use site that makes money from advertising. We have a modified experience for viewers using ad blockers

Wikia is not accessible if you've made further modifications. Remove the custom ad blocker rule(s) and the page will load as expected.